Welch Coulee Cemetery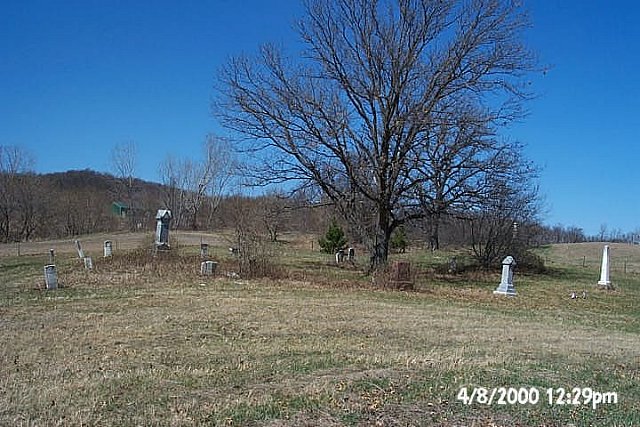 The Welsh Methodist Cemetery is located in Town of Bangor on County J, 0.3 miles south of the junction of County B and County C, about 1.0 miles south of Rockland. Originally called the Second Welsh Calvinistic Methodist Society Cemetery. Location is SE 1/4 SE 1/4 in Section 1.
You can view a map of the area containing this cemetery.
Cemetery Plot Map (if available)

                  WELSH CONGREGATIONAL CEMETERY RECORDS
Property of Robert H. Selbrede, West Salem, WI 54669-8301
                                     Database updated on 08-Jan-2014  1044 

Copyright © 1998-2014 Robert H. Selbrede
For searching, use your browser [Edit|Find (on this page)] feature.

(*):Service Veteran

   NAME                  BIRTHDATE   DEATHDATE   LOCN  PAGE  BLOCK  LOT SITE
   ? Humphry            Age 42     -Apr 04 1871   WC1    0     0      0    0  
   Davies Bess          Age 48     -Apr 26 1857   WC1    3     1      1   18  
   Davies Daniel T.     Age 60     -May 17 1858   WC1    3     1      1   18  
   Davies Pamealia      Age 56     -May 06 1857   WC1    3     1      1   18  
   Davies William                  -              WC1    3     1      3   16  
   Davies William D.               -              WC1    3     1      1   18  
   Davis John W.                   -              WC1    1     1      7   48  
   Davis John W.                   -              WC1    3     1      1    1  
   Davis Mary                      -              WC1    2     1      5   41  
   Edwards John T.                 -              WC1    2     1      4   15  
   Evans Claudia                   -     (moved   WC1    2     1      4   33  
   Evans John                      -     (moved   WC1    2     1      4   33  
   Gittings Thomas                 -              WC1    2     1      4   22  
   Griffiths David D.              -              WC1    1     1      8   26  
   Griffiths Rachel     Age 26     -May 04 1872   WC1    1     1      8   26  
   Humphrey Ellis                  -              WC1    1     1      8   11  
   Humphrey Emma                   -              WC1    1     1      7   12  
   James Catherine      Dec 20 1844-Jul 17 1862   WC1    2     1      4   40  
   James David J.       Jun 17 1813-Jun 01 1895   WC1    2     1      4   40  
   James Mary           Mar 09 1812-Feb 15 1879   WC1    2     1      4   40  
   James Sarah          Dec 25 1841-May 05 1865   WC1    2     1      4   40  
   James William        Mar 09 1846-Mar 20 1856   WC1    2     1      4   40  
   Jenkins David                   -              WC1    1     1      9   28  
   Jenkins Evan                    -Oct 29 1879   WC1    1     1      9   28  
   Jones Abraham        Age 5      -Sep 26 1841   WC1    3     1      1   54  
   Jones Abraham E.     Age 18     -Sep 21 1861   WC1    0     0      0    0  
   Jones Alice                     -              WC1    3     1      3   57  
   Jones Avariana       Jun 27 1877-Feb 15 1900   WC1    3     1      1   19  
   Jones Ben                       -              WC1    3     1      2   56  
   Jones Ben                       -              WC1    3     1      3   57  
   Jones Bertha         Oct 23 1879-Feb 20 1881   WC1    3     1      1   19  
   Jones Charlotte      Nov 15 1883-Jul 04 1904   WC1    3     1      1   19  
   Jones David          Jan 02 1886-Jun 16 1886   WC1    3     1      1   19  
   Jones David D.       Age 71     -Jun    1862   WC1    3     1      3   39  
   Jones David O.       Mar 28 1846-Jan 03 1916   WC1    3     1      1   19  
   Jones David W.              1821-       1898   WC1    3     1      1   36  
   Jones Elizabeth                 -              WC1    2     1      6   24  
   Jones Elizabeth             1824-       1859   WC1    0     0      0    0  
   Jones Elizabeth                 -       1862   WC1    2     1      5    5  
   Jones Elizabeth      Age 44     -Jan 21 1867   WC1    0     0      0    0  
   Jones Elizabeth             1821-       1890   WC1    3     1      1   36  
   Jones Eunice         Nov 05 1889-Nov 28 1903   WC1    3     1      1   19  
   Jones Evan D.        Age 31     -Jun 10 1862   WC1    0     0      0    0  
   Jones Gladis         Jul 15 1887-May 26 1889   WC1    3     1      1   19  
   Jones John A.                   -              WC1    3     1      2   17  
   Jones John B.        Age 86     -Oct 16 1869   WC1    1     1      7   30  
   Jones John E.                   -              WC1    3     1      1   54  
   Jones John F.                   -              WC1    2     1      5    5  
   Jones John R.                   -              WC1    2     1      5   32  
   Jones John W.        Age 86     -Oct 16 1869   WC1    2     1      6   24  
   Jones Mrs Evan       Age 84     -Jun 10 1862   WC1    3     1      3   39  
   Jones Richard        Sep 18 1881-Jul 26 1901   WC1    3     1      1   19  
   Jones William        Apr 26 1875-Nov 09 1903   WC1    3     1      1   19  
   Morgan Pierce                   -              WC1    3     1      3    3  
   Morris Anna M.       Age 21     -Mar 19 1875   WC1    0     0      0    0  
   Morris David J.                 -              WC1    3     1      2    2  
   Morris John A.       Age 12     -Jul 09 1869   WC1    1     1      7   43  
   Morris John R.       Age 13     -Jul 09 1867   WC1    0     0      0    0  
   Morris R. R.                    -              WC1    1     1      7   43  
   Owen Alice           Age 8      -Feb 25 1863   WC1    3     1      2   38  
(*)Owen John            Age 19     -May 17 1862   WC1    3     1      2   38  
(*)Owen Owen            Age 19     -Jul 16 1864   WC1    3     1      2   38  
   Owen Thomas G.       Age 62     -Sep 24 1864   WC1    3     1      2   38  
   Owens Alice                 1808-       1878   WC1    3     1      2   38  
   Protheroe James                 -              WC1    2     1      5   23  
   Richards Catharine W Age 36     -Mar 19 1884   WC1    2     1      5   14  
   Richards Thomas                                WC1    2     1      5   14  
   Roberts E. R.                   -              WC1    3     1      2   53  
   Roberts Evan                    -              WC1    2     1      4   51  
   Roberts Hugh                    -              WC1    2     1      6   31  
   Roberts Robert B.               -              WC1    1     1      9   27  
   Roberts William F.   Age 19 1861-Sep 22 1862   WC1    3     1      2   35  
   Roberts William G.   Age 1  1861-Sep 22 1862   WC1    0     0      0    0  
   Stanley Mary                    -              WC1    2     1      6    6  
   Thomas Hugh                     -              WC1    2     1      5   50  
   Thomas Lewis                    -              WC1    3     1      2   20  
   Thomas Lewis                    -              WC1    3     1      3   21  
   Williams Ann         Age 67     -Dec 10 1883   WC1    2     1      4    4  
   Williams Ann                    -              WC1    2     1      6   13  
   Williams Ann         Age 10m1867-Nov 28 1867   WC1    0     0      0    0  
   Williams Annie       Age 63     -Aug 18 1869   WC1    0     0      0    0  
   Williams David       Age 58     -Dec 06 1871   WC1    2     1      4    4  
   Williams Edward P.   Age 37     -Apr 21 1877   WC1    2     1      6   13  
   Williams Griffith O. Age 5      -Jun 24 1866   WC1    0     0      0    0  
   Williams Hugh G.     Age 36     -Nov 23 1859   WC1    3     1      1   37  
   Williams John        Age 5      -Oct 22 1869   WC1    0     0      0    0  
   Williams Margaret               -Mar 27 1864   WC1    0     0      0    0  
   Williams P.                     -              WC1    0     0      0    0  
   Williams Richard     Age 3      -Feb 01 1866   WC1    2     1      6   42  
   Williams William                -              WC1    2     1      6   49  
   Williams William P.             -              WC1    2     1      6   13  
   Williams William R.             -              WC1    2     1      6   42  

 Total number of entries=   92

---
For information, additions or corrections, send us a message.
Copyright © 1998-2014 Robert H. Selbrede